About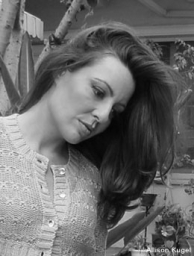 Allison Kugel's reputation as a talented writer and speaker became known within industry circles and it wasn't long before Internet player PR.com tapped her to come on board to head up and develop their now acclaimed "Articles" section.
With her ability to relate to people and warm them up, Allison decided to try her hand at interviewing celebrities. A few stars took a chance on the little known interviewer, and from there it spread like wild fire! With a growing fan base of publicists, studios, and artists, celebrity interviews started to come fast and furiously and Allison Kugel's PR.com celebrity interviews are now a gold standard in New Media legitimate celebrity coverage.
Allison Kugel's PR.com interviews are not ten question "fluff" pieces, but rather lengthy in-depth retrospectives that require the public personality to open up and share parts of their life and their most intimate thoughts with Allison's extensive online audience. Allison has gone one-on-one with film and television stars, famous recording artists, reality stars, supermodels, politicians, authors and self-help gurus… even dolling out her advice to them when she sees fit.
Thousands of bloggers, major news search engines (e.g. Yahoo News and Google News), other entertainment news outlets and individuals pick up excerpts and sound bytes from Allison's celebrity interviews.
Some of Allison's published interviews include:
Russell Simmons, Jerry Ferrara, Kim Kardashian, Joy Behar, DJ Pauly D, Pamela Anderson, Ron Reagan, Nicole Scherzinger, Chelsea Handler, Edward Burns, 50 Cent, Nancy Sinatra, Mo'Nique, Taraji P. Henson, Kevin James, Giuliana Rancic, Deepak Chopra, Tori Spelling, Denise Richards, Bret Michaels, Jenna Jameson, Eliot Spitzer, Ron Paul, Dr. Andrew Weil, Gloria Allred, Ice-T, Gene Simmons, Sandra Bernhard, Tyrese Gibson, Brooke Hogan, Jenny McCarthy, Stan Lee… to name just a few.
Allison has also freelanced for publications like US Weekly Magazine, Jewish Living Magazine and UCLA's FEM Magazine. On the airwaves she was a guest American News Correspondent for 96.7 Ocean FM South England, delivering 30 minute American Political and Entertainment news reports monthly to the United Kingdom in the early 2000s.
Allison is also President of Allison Dawn PR, Inc. - www.allisondawnpr.com
Allison Kugel Speaks About Celebrity Journalism
HELP ANIMALS NOW
Allison donates to the ASPCA (American Society for the Prevention of Cruelty to Animals) and to PETA (People for the Ethical Treatment of Animals)… Visit www.aspca.org and www.peta.org to learn more about how you can help too!