Kathy Hilton on Family, Fashion & Her New Collection of Special Occasion Dresses
June 26, 2012
No Comments
Kathy Hilton on Family, Fashion &
Her New Collection of Special Occasion Dresses
By Allison Kugel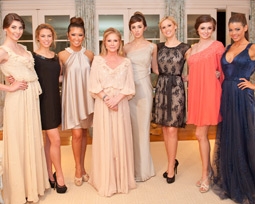 Dresses from The Kathy Hilton Collection
PR.com (Allison Kugel): Since you grew up in a home filled with girls how did that affect your personality and your style sensibilities?
Kathy Hilton: I would say growing up with two sisters, and my mother, who I loved and adored, and who was so elegant and loved fashion, we all love fashion yet we all have different tastes and style.
PR.com: What did you learn from your mom, and what do you emulate about her sense of style to this day?
Kathy Hilton: She was very glamorous. There are times I like to dress glamorous but then there are times I like to just be a little bit more… a little simpler. I have many different personalities, as you'll see in my collection (The Kathy Hilton Collection).
PR.com: I'm not much of a fashion person. I'm usually in sweats and a tank top (laughs), but when I saw your dresses I wanted to reach through the computer and grab them. They are so beautiful! Your collection doesn't show too much skin. The dresses are just very feminine and ethereal.
Kathy Hilton: They are very lady-like and feminine, and there are some that are very sexy. But I've also traveled a lot and I understand different styles. This all started because we have to go to a lot of events, and going into the stores and seeing the prices and how expensive things are; everybody is cutting back from this economy. I really wanted something for me, for my nieces, for my sisters, for my daughters, for all of their friends and for women that love beauty [and] quality. I've been lucky enough to be able to travel and wear all of the very wonderful designers and go to all the shows, and so I really love fashion. But I wanted something for everyone.
Read more of the interview with Kathy Hilton at PR.com
Tags: Allison Dawn PR, Allison Dawn Public Relations, Allison Kugel, Allison Kugel interview, celebrity interview, celebrity interviews, fashion, Hilton Family, Kathy Hilton, Paris Hilton, PR, PR.com, PR.com Interview, public relations, The Kathy Hilton Collection, The Real Housewives of Beverly Hills
Celebrity Interviews, Celebrity News, General, Public Relations