Flexfit Headwear Creates Special Edition Hat in Support of Haiti
March 21, 2012
No Comments
Flexfit partners with Hamylo (short for Haiti My Love), an organization working in support of Haiti, founded by "Sweet Micky For Prezidan" documentary film producer and philanthropist, Macc Plaise.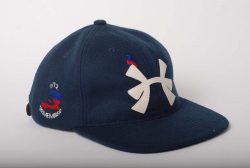 Hicksville, NY, March 21, 2012 –(
PR.com
)– Flexfit headwear and non-profit organization, Hamylo, are gearing up to debut the official
Flexfit
Hamylo "H" custom embroidered, special edition hat. A portion of proceeds from the sale of each hat will go towards relief and re-building efforts in Haiti. The Flexfit Hamylo "H" hat will be available to the public for purchase next month.
The hats feature the Hamylo logo, an "H" topped with the Cap of Liberty, as it appears on Haiti's national flag. Flexfit's Hamylo "H" hats will also be given out at the premiere of the much anticipated documentary film, "Sweet Micky for Prezidan," about Michel J. Martelly's rise to become President of Haiti. The film features appearances by: Sean Penn, Ben Stiller, Danny Glover, Wyclef Jean, Pras Michel (The Fugees), and America's Next Top Model judge Nigel Barker; and is co-produced by Hamylo founder, Macc Plaise.
"Flexfit is proud to lend its brand to bringing awareness to the cause of re-building the nation of Haiti," states Andy Song, Marketing Manager for Flexfit LLC.
In reciprocity, Hamylo Founder, Macc Plaise states, "As a young organization with big dreams of helping the people of Haiti, we are very fortunate to have the support of Flexfit. The collaboration between Flexfit and Hamylo is a great beginning for us, and we are very proud to be working with such a preeminent headwear manufacturer."
About Flexfit Through hard work, superior talent, and unmatched standards, Flexfit has developed into a leader in headwear. Today, Flexfit exports hats to sixty countries worldwide. The patented Flexfit brand is recognized around the globe for top quality. Every year Flexfit introduces groundbreaking styles and innovations that set new standards for the competition to try and follow. The Flexfit brand has become synonymous with, both, groundbreaking headwear technology and global humanitarian work. Merging philanthropy with athletics is a significant part of Flexfit's corporate philosophy. To learn more about Flexfit brand headwear visit
www.flexfit.com
.
About Hamylo Hamylo, short for "Haiti My Love" is an organization founded by film producer, Macc Plaise with the goal of keeping Haiti remembered. Hamylo offers merchandise bearing the letter "H" for Haiti with Hamylo's unique logo. The Hamylo logo is an H topped with the Cap of Liberty just as it is on the royal palm for independence on the Haiti flag's coat of arms. Designed by Hamylo founder, Macc Plaise, Hamylo intends to brand their logo as the standardized "H" for Haiti.
A portion of the sales proceeds from Hamylo merchandise will go towards supporting the work Hamylo's non-profit partners who are working to improve conditions in Haiti. Hamylo's flagship product is a custom Flexfit cap with the Hamylo "H" logo embroidered on each cap (purchase availability to be announced).
Media Contact: Allison Dawn PR, tel: 516-942-0264, email: allisondawnpr@aol.com
Contact Information
Allison Dawn PR Allison Kugel 516-942-0264 Contact www.AllisonDawnPR.com www.Flexfit.com
Tags: Allison Dawn PR, Allison Dawn Public Relations, Allison Kugel, and America's Next Top Model judge Nigel Barker, Ben Stiller, Danny Glover, Flexfit, Flexfit custom hat, Flexfit hats, Flexfit headwear, H Hat, Haiti, Haiti charity, Haiti fundraiser, Haiti President, Hamylo, headwear, Macc Plaise, Michel J. Martelly, money for Haiti, Pras Michel (The Fugees), Re-building Haiti, Sean Penn, Sweet Micky, Sweet Micky for Prezidan, Wyclef Jean
Fashion Passion, Philanthropy, This Is Awesome